Samir Nasri says he hopes to nail down a spot in the West Ham first-team and remain free of injury for the rest of the season.
The former Arsenal and Manchester City star made his debut in the FA Cup win over Birmingham City.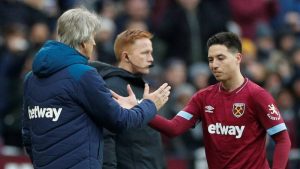 The Gunners are in town on Saturday, however, and could provide a much sterner test, with Nasri aware of the threat they pose, having played for the club between 2008 and 2011.
Nasri says he has the confidence in his own ability, however, and is optimistic that he can prove his worth under Manuel Pellegrini between now and the end of the season.
He told the club's official website: "I want to play regularly in the team.
"I also want to have a season free from injury as when you are coming back from a year of not playing it is easy to pick up niggly injuries. I want to play as much as possible and help the team with goals and assists to help the club have a good second half of the season.
"I believe 100 per cent I am the same player I was before [my ban]. If you don't believe in yourself, who will? I am a player who has a lot of confidence in my own ability and football is like riding a bike; once you know how to do it, you never forget how to do it.
"Once I get my fitness back, I believe I will be the player I was. I just feel blessed to have a second chance and want to look back in the future on more happy memories of this period of my career at West Ham."
Nasri had been out of the game for a year before his Claret and Blue bow against Birmingham, after he was handed a 12-month ban for a doping violation.
During his time at Arsenal, he made over 100 appearances.