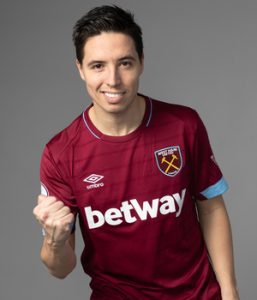 Samir Nasri will AGAIN be missing when the Hammers take on Leciester City at the London Stadium this weekend.
The 31 year old felt some pain during his warm up for the match against Manchester United but was expected to be available for the weekend game.
Sadly – with Manu Lanzini unable to play with an abductor tear – CandH has learned that the Frenchman will be unable to take up the midfield creative duties.
We were told this morning by a senior source on the 'phone that the player remains injured and has been ruled out already.
It's a  blow for the manager who despite his admiration for the player will need to give very careful consideration to whether the option for a further year's deal is a wise move given the circumstances.
Nasri has not appeared in the first team since arriving as a second half sub against Huddersfield and has made just five Premier League appearances since January.
He will need to make a rapid recovery if he is not to run out of time in his bid to prove he is worth the year's deal.