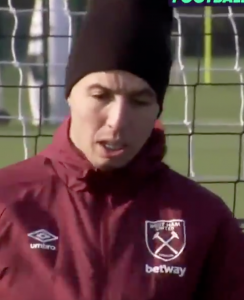 Samir Nasri has opened his heart about about the misery he has suffered over the past year and in doing so has shown how desperate his is to make a huge success of his West Ham experience.
There were plenty of questions asked when Manuel Pellegrini made it clear this was the man he wanted as his playmaker when he was available.
Many believed that a player serving a year's suspension on drugs-related offences was precisely what the club did not need, others realised that of he could return to his best he would be a huge asset to the club.
And last weekend's FA Cup excursion against Birmingham City showed to most that the ability was still there and that there is a lot more to come.
Beyond his own determination to prove to himself that he can still do it at the highest level is the weekend game against his former club Arsenal – a game which will give him even more incentive should he need it, which is unlikely.
And in explaining his decision on his reason for joining the Irons and his current expectations he told www.whufc.com:  You choose a club and a project because of the ambition, and I think that West Ham has everything to be one of the biggest clubs. This team has a lot of quality which has the potential to finish high up the league.
"Just look at some of the names the club has brought in. Felipe Anderson was the new wonderkid when he signed for Lazio, and two or three years ago they were talking about a move to Manchester United.
Jack Wilshere, I know him from when he first came in at Arsenal. He was a wonderkid and he is a special player. [Andriy] Yarmolenko same thing. Chicharito same thing.
"This squad is full of talent and it's the right ingredient for this team to go really high."
This team has a lot of quality which has the potential to finish high up the league
"When I signed, I told the boss that I wanted only one thing; to show everyone that I can still be that guy. I want to look at myself in the mirror and be able to say 'You came back and did everything in the right way'.
"It's for my son as well. He's too young right now but when he sees me play, it has to be competitively. I could have gone somewhere exotic but I wanted to be back in a competitive league and prove to myself I can still be doing it. My determination is there. I just want to make a contribution to this team.
"The competition, the dressing room, and to be back on the pitch, that's all I was waiting for, for a whole year. I had some really tough moments when I was really down.
"I'm a guy who, mentally, I'm really strong, but for maybe the first time in my life, I cried about my career because I thought it was over.
"But now, coming back to the most competitive league in the world, with a team full of ambition with a manager that I know, and with a stadium like this. Man! It's the best job in the world!"