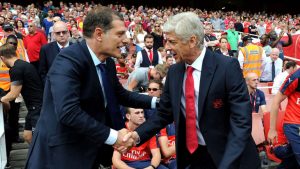 Moody Arsenal boss Arsene Wenger appears to have stuck a knife into the Irons by suggesting the were "on holiday" against Lverpool.
The Hammers collapse meant that the Gooners are outsiders to finish in the top four and he was obviously lookimg for us to do him and his squad a favour.
Jurgen Klopp's Reds are now in pole position to finish in the top four with only a slip up in Sunday's final game standing between them and a place in that top four.
Wenger said: "It's difficult to plan, so you just want your team to do well, to focus until the last be professional and do your job properly until the last second of the season.
"It's vital, just so you can look in the mirror and say we did it properly. That for me is absolutely vital.
"I work every day not to stop half way. If we don't have the results I'm not happy, but what is not excusable is not to do your best."