Hammers 1 Cherries 1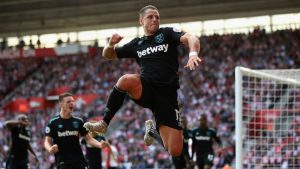 West Ham battled their way to another precious point against a very decent Bournemouth team and go into the FA Cup weekend still holding onto 11th position in the PL.
They fell behind in the 72nd minute to a Ryan Fraser goal before Chicharito – on for injured Manu Lanzini – grabbed a typical goal straight from the kick off to equalise.
Make no mistake, this is a very different West Ham team to the one the Scot inherited just a few weeks ago. He has  produced an energetic team ready to battle and produce blood sweat and tears for the cause. The attitude couldn't be further away from where we were under the last manager.
Beyond that, there are great signs that real passing quality is appearing with the Hammers looking a very decent outfit at times although they need to aim at maintaining that over 90 minutes.
The decision to team up Marko Arnautovich with Manu Lanzini looks something of a master stoke despite neither getting onto the score sheet today.
In fairness the visitors had done their homework on them and it was an irony that it should be Lanzini's replacement who ensured we grabbed a point.
My overwhelming feeling throughout this 90 minutes was that if David Moyes can make such a difference to a side  within such a short space of time how good will it become once he adds a few of his own.
The future is looking very decent.
COYI