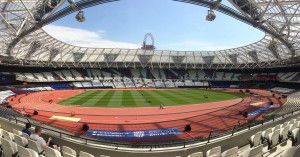 The London Stadium will host a new athletics World Cup event this summer, with eight top nations competing.
The inaugural tournament is scheduled for 14th and 15th July – the same weekend as the World Cup final in Russia and the Wimbledon finals. Britain and the United States will take part, along with South Africa, Poland, France, China, Germany and Jamaica.One male and one female athlete from each nation will compete in each track and field event.
The countries will be competing for prize money of £1.42 million ($2m) over two evening sessions at the London Stadium.
The normal Diamond league  Anniversary games athletics meeting will be hosted at the London Stadium on the following weekend on Saturday 21st July – Sunday 22nd July.
The stadium then faces a two-week £4m transformation to return it to football mode for West Ham before the start of the season on 11th/12th August. The Championship starts one week earlier on 5th 7 6th August should the Hammers suffer relegation but the stadium owners are confident they can return the stadium before that date this summer as the East stand is not scheduled to be moved.
West Ham Vice Chairman broke silence on Twitter to answer a West Ham fan's question on the Athletics event saying "I can confirm that the entire stadium will be back in full football mode by 1st August & West Ham United fixtures take priority. For the IAAF – the contract to host that tournament was signed before we signed our agreement, so that was the only exception to priority rule"