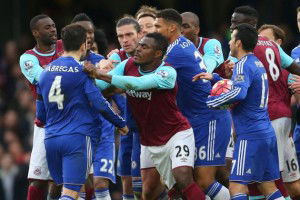 West Ham have today announced how their new online system for Priority Points applications will work. Gone are the days of paper allocations, faxes and emailed application forms.
Chelsea away tickets go on sale to Bondholders on Thursday 28 July and Priority Points applicants on Friday 29 July. West Ham have been allocated 3,000 tickets for Premier League opener on Monday 15 August.
Supporters who make Priority Points applications should note that the process for applying for tickets has changed for this season. There is no longer need to sumbit a form by fax or email, but apply in an online only process which will recognise your Priority Point order.
 
Specific timeslots will be open throughout the day depending on your number of Priority Points, with the 29 July online sale for Chelsea operating as follows: 
8+ points: 9am
7+ points: 10am
6+ points: 11am
5+ points: 12pm
4+ points: 1pm
3+ points: 2pm
2+ points: 3pm
1+ points: 4pm
Bondholders can still purchase their tickets over the telephone on 0871 529 1966* or in person, as well as online, but Priority Points applications now need to be made online only.
Tickets are priced at £30 adults and £23.50 under-20s, under-16s and over-65s.