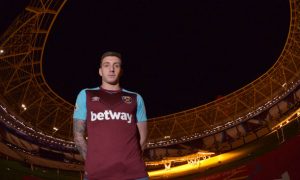 Hammers £10 million striker Jordan Hugill absolutely loved his debut moment for the team as he showed himself off to the London Stadium fans for the first time.
And although he was only on the pitch for a few moments as a replacement for Chicharito his high energy display impressed many spectators.
And he told the official site: "To get on for my home debut was a big moment for me, and getting the three points makes it even sweeter so it's a great day overall.
"I was ready to come on at any time – as soon as it got into the second half I was thinking that I had a chance. To get the call was brilliant,  it was a brilliant experience to play in front of the fans.
"I'm excited for the rest of the season. The boys were excellent all over the pitch, it was great to get the two goals and I'm sure the defenders will be happy with the clean sheet too.
"Everyone's been really good to me, the players, staff, everybody. The lads have made it much easier for me to settle in because they're a good group.
"I'm doing bits after training just to get myself prepared and ready for when I'm needed. When I get the call I'll be ready for it."