By Simon Leyland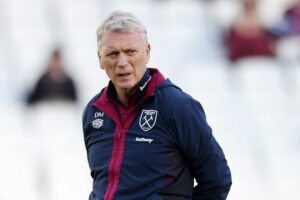 Jacob Steinberg, the West Ham supporting writer for the Guardian has written an interesting article on our now confused/beleaguered/ clueless (delete where applicable) supremo.
As reported by the venerable Hughie elsewhere,  Moyes faces a battle to quell growing discontent within his squad after West Ham's relegation fears deepened with our thrashing  at Brighton.
The board have stood by Moyes, even though the shambolic performance on Saturday has caused alarm, and are hoping for a positive response.
The Irons, who are a point above the bottom three, will hope to shift the mood when they visit AEK Larnaca in the last 16 of the Europa Conference League on Thursday and then host Aston Villa in the Premier League on Sunday.
According to Steinberg, some players have grown weary of his prehistoric management style. No better illustrated than his 5-3-2 formation against the Spuds which screamed "Caution, caution, caution!" Not that it did us any good losing 2-0 and barely creating any chances
He points out that we have offered positive flashes recently. Draws with Newcastle and Chelsea were steps in the right direction last month. But we have not been able to build on the win over Forest. We exited the FA Cup despite playing well against United last week and were then totally outplayed by Brighton.
Declan Rice, the club captain, said after the Brighton game: "As a player I'm hurting. To be out there, it was demoralising, to stand there, to try to defend and see them keep the ball."
He goes on to say that part of the frustration is that West Ham, who reached the last four of the Europa League last season, spent more than £160m last summer in an attempt to challenge for Champions League qualification.
In Moyes defence, many of the signings have failed to impress and Moyes's attempts to find a consistent XI have been hit by injuries.