By Gonzo
The Italian media are reporting West Ham have set their sights on Lazio manager Maurizio Sarri to replace David Moyes.
This comes after reports yesterday (which were rubbished by a club source) that Daniel Kretinsky would look to replace the Hammers manager – irrespective of survival or relegation.
Even though Sarri has a contract until 2025, it is far from certain the ex-Chelsea manager will remain at Lazio. West Ham are in the frame to take him and are one of four clubs to have 'contacted' the 64-year-old.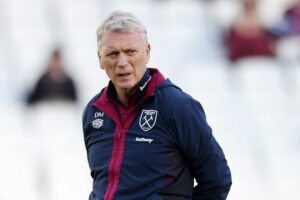 How much truth there is in this report remains to be seen. However there were numerous stories circulating yesterday, which suggested the Irons board chose to stick with Moyes due to lack of quality 'available' candidates.
It's hard to underplay the importance of West Ham's next two games. Tottenham away followed by Nottingham Forest at home will need to yield at least three points. Anything less could see The Hammers back in the relegation zone and Moyes top of the bookies list in the 'sack race.