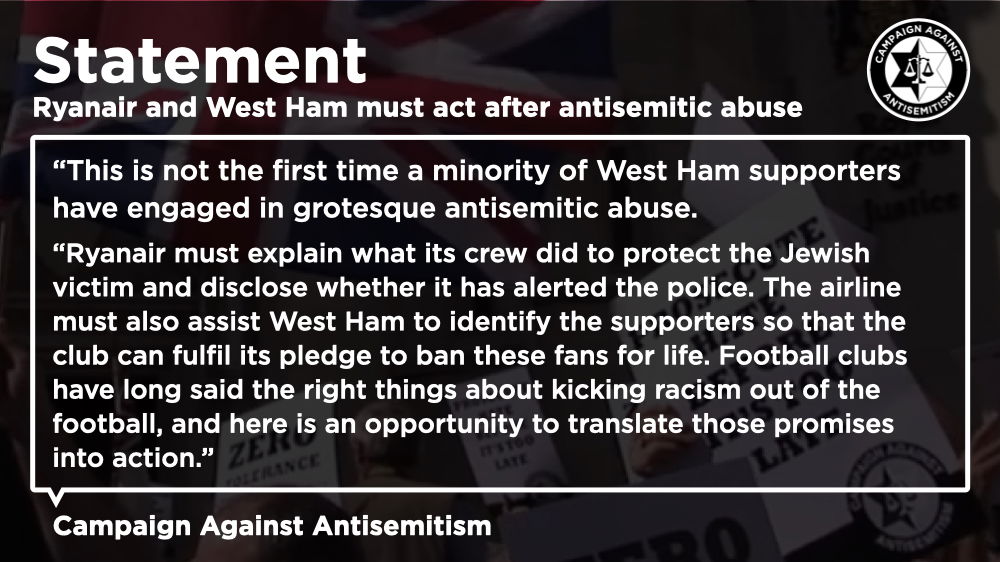 The Campaign Against Antisemitism
have written to Ryan Air
asking what was done to protect the Jewish victim of  Anti Semitic
chanting by one or more
West Ham fans.
They have also asked how the airline will help the club identify and ban these supporters for life.
West Ham United has condemned alleged antisemitic chanting by its supporters directed at an Orthodox Jewish man on a plane.
The incident took place on a flight to Belgium, where fans were travelling to watch the London club play Genk in the Europa League.
In a clip posted on social media by Away Day Bible, supporters of the club can be heard singing about Spurs, referencing genitalia and circumcision, as an Orthodox Jewish man walks down the gangway of the Ryanair flight. The clip has now been removed by Away Day Bible.
Lord John Mann, the government's independent adviser on antisemitism, posted on Twitter, saying it was "one for met [police] and West Ham to prosecute. And for me and others to make sure they do."
A 55-year-old man has been arrested on suspicion of committing a hate crime as police continue to investigate social media footage appearing to show West Ham supporters singing an anti-Semitic song. The man was arrested at Stansted Airport on Friday afternoon after arriving in the UK from Belgium and was taken to a police station in Essex, where he will be questioned.
An Essex Police statement said: "We immediately launched an investigation after being made aware of a video on social media of a man being subjected to harassment whilst taking his seat on board an aeroplane before it departed from Stansted Airport on 4th November."