ClaretandHugh analyst RICH SPRENT casts an eye at the Upton Park transfer market activity so far this  summer and concludes there are much better times ahead for Hammers fans this season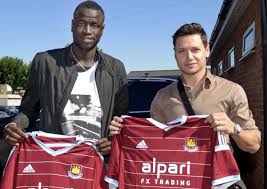 The well publicised expectation is that Sam Allardyce's West Ham will have to play a more expansive and attractive style of football this coming season
The setup to date has been to stifle the opposition and to take chances when they appear. Possession of the football was never high on the agenda. But with the new signings to date, and welcome to them all,shows a promising change of direction in both player age and ambition.
The inclusion of a strong defensive midfielder, Cheikhou Kouyate, will enable the fullbacks to push on. Allardyce has described the former Anderlecht star as 'an attacking force'.
With his history of playing as both a defensive midfielder and centre back I interpret that  as him being a springboard from where attacks are launched. He is clearly mobile and if he plays off of Noble he could be a threat in the opposition box.
When in possession at the back, one of Kouyate or Noble should now be expected to slip in between the centrebacks, the other released to give an option through the middle.
This enables the centrebacks to ease out wider providing options to the ball carrier. In turn it allows the fullbacks to push on giving the team width. Aaron Cresswell is known to be an attacking fullback and with Guy Demel on the other side it gives options down both flanks.
The attacks should now be able to be more mixed than what we've become used to. Progress up the pitch should now be made from keeping possession more often, a welcome relief to those who despair at the last resort of the centre half hitting a long ball aimed in the general direction of Carroll.
Mauro Zarate and Valencia are both exciting talents with pace and great movement. They can play wide or behind a front man and even have played down the middle.
This provides much needed fluidity when in possession. With attacking fullbacks it will allow players such as these to move about in the holes between the opposition's defence and midfield.
But what happens with last season's first choice forward players? Two were discarded by their former club with the manager maybe suggesting that they weren't up to playing the fluid style he desired. I don't think that anyone expects Andy Carroll  popping up on the wing mesmerising fullbacks with the ball at his feet.
However, with the expected style of play, the new personnel will be bringing in he'll need to be mobile and ready to link play more often. As the big earner on the team he will naturally be expected to contribute with goals and to keep attacking momentum going when in possession.
Stewart Downing was arguably one of the Hammer's better contributors last season. His goal return was poor and that will certainly have to improve for him to justify a place in the starting XI.
Can he prove Brendon Rodgers wrong and add the expanse of play that is expected of the 2014/15 Hammers? He can play up and down either flank effectively. Can he take up positions in the middle and be alert to opportunities as they arise from more dynamic play?
Matt Jarvis often played an open left sided role around and alongside Fletcher at Wolves. He has been largely disappointing in his production so far in the claret n'Blue with the manager often choosing Mo Diame to play out of position in his place.
Again his production has been well below what is expected of a forward player. With the shackles off can he step up and show that he is deserving of a starting place?
Of course, the set up of the team over the past two seasons has not allowed free thinking wide players to interact with other players in a dynamic and fluid fashion. The wingers were often played in a fixed role with little or no fullback support. The midfield was often static with the 'Respect the Point' mentality full in force.
Times are a changing however and Big Sam has a season to convince the owners that he is deserving of a new contract. Fitting the players into a winning fluid style is the untested formula.
It took Rodgers a couple of seasons to produce the football he desired. And that was with a team with a wealth of talent producing some truly exquisite football last term.
All of this of course is down to how the manager can coach this season's collection of players into playing. And of course 5 doesn't go into 3. Or 6 into 4 if we bring Nolan into the math!
I don't think it will be too far from the realms of possibility that Sam's equation needs an answer of a top 10 finish plus silverware. Surely only that or a real go at earning a European place will earn him a new contract.
The very worst they should do is to fall back on the 38pts from 38 games mentality. And that won't be enough for the manager to see in the last season at the Boleyn. But with the added competition added to the squad this team is better than that, surely?