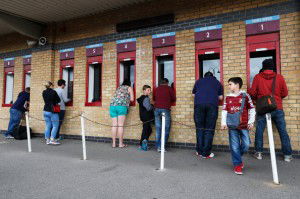 West Ham have set the cat among the pigeons with fans after setting a 24 hour  Priority post deadline for tomorrow on ticket sales for the Manchester United FA Cup quarter Final at Old Trafford.
And an Old Trafford pricing decision has also gone down very badly indeed among Irons fans.
Adults  will have to pay up to £55! Adult Season ticket holders will need to fork out between £37 and £47 for a ticket, members £40 to £50 and non members £45 to £55 for a ticket. Club coaches will cost between £35 and £40 per person.
The club confirmed ClaretandHugh's story earlier this week that the Hammers have been allocated 9,000 away tickets for the Manchester United match in the FA Cup quarter final.
As we explained, Manchester United have a special dispensation with the FA limiting their allocation of Old Trafford to 9,000 (just 12% of their 76,000 capacity). It is the same number we took up north in 2001 when Paolo Di Canio scored the only goal while Barthez waited for a taxi.
But prices have almost doubled in the 15 years when the 9,000 fans paid an average price of £24 pounds in 2001 to watch West Ham beat the Red Devils 1-0.but
Fans have inundated CandH with complaints that the date and time of kick off is omitted from the update on WHUFC.com and is yet to be confirmed.
Some season ticket holders are fuming that a Priority post deadline has been set for tomorrow (Thursday 25th Feb) despite not knowing the day and time of the quarter final.
Several described it as "a fiasco in the making" saying: "Twenty four hours norice when we don't even know when the game will be played is a joke."