Declan Rice is wanted by Newcastle United, according to a new report.
Eurosport claims that the midfielder will be the subject of an offer from the club if he does look to move on from the club.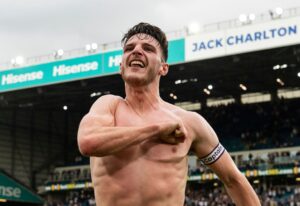 As we know, Rice has been heavily linked with an exit from the Hammers but there has never been a formal bid tabled by an interested club, despite rumours of interest from Manchester United and Chelsea.
Eurosport reports that Newcastle will attempt to muscle their way into the race should bids be tabled.
The club, of course, have been taken over and now have the financial might to look to compete for the very best players in world football.
The report makes the claim that Newcastle could be regarded as the richest club in the world and a move for Rice would cost well in excess of £100m.
Still, it seems that Newcastle do hold an interest and want to build a spine of English players.