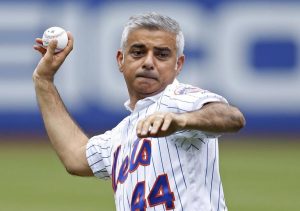 Major League Baseball is coming to the London Stadium with the New York Yankees and the Boston Red Sox set to play each twice in the summer of 2019. The matches are tabled for June 29-30 to fit in with British Athletics' summer plans for the venue.
While the proposed games are yet to be finalised, The London Standard says the MLB looks certain to join both the NBA and NFL in having regular games on the calendar in London.
Mayor Sadiq Khan first held talks with MLB commissioner Rob Manfred in New York in September 2016 and was given the honour of throwing the first pitch at a New York Mets game, an honour reserved for VIPs and celebrities.
A spokesperson said on Tuesday: "The Mayor remains determined to bring Major League Baseball to London and talks are ongoing with the organisers."
Red Sox owner John W Henry, who also owns Liverpool Football Club, told the Associated Press: "This is something the two clubs have discussed for years and hopefully it will become a reality."
Stadium owners E20 previously paid £290,000 for modifications to the retractable seating to make the stadium fit for Baseball allowing for the first seven rows of the lower tier seating to be detached.