Newcastle are interested in a potential deal to sign Gaetan Laborde from Rennes in the January transfer window, according to a new report.
The Hammers have been linked with the striker previously, with Laborde seen as a potential acquisition to provide support to Mikey Antonio.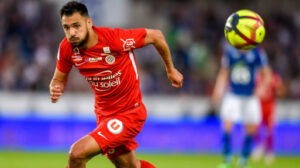 That was back in the summer but a new report now claims that the Magpies are eyeing up a swoop ahead of the winter window.
French outlet Homme du Match reports that the newly-minted Premier League club want to bring Laborde in, while Wolves are also credited with an interest.
Rennes paid around £15.3m to sign Laborde from Montpellier and Newcastle are said to be willing to double that price to secure his signature in the winter window.
It remains to be seen if the Hammers will also reignite their interest given that David Moyes wants to bring in a striker during the January transfer window.
Keep an eye on this.