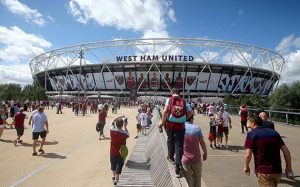 Newham council is expected to take over full ownership of the London Stadium long term. At present Newham Legacy Investments own 35% of the stadium with the London Legacy Development Corporation ( LLDC) owning the remaining 65% through a joint company called E20 Stadium LLP.
Long term the likelihood is that London Legacy Development Corporation will be disbanded with Newham inheriting the public asset as the government look to keep the former Olympic Stadium in public ownership.
Newham Council loaned  Newham Legacy Investments £40m repayable over 40 years which was used as part of the Stadium transformation project along side West Ham's £15m contribution. No repayments have been made to date back to Newham and the council have effectively written off the debt in their financial accounts for now but long term the council could still reap the financial benefit for their council tax payers.
The London stadium still has the potential of being profitable if a naming rights sponsor can be found and even more profitable if athletics vacate the stadium for a new stadium in Birmingham in 2022.
Newham residents could yet get their money back and the stadium could provide regular revenue back to one of the poorest council's in London over the next 99 years once the stadium business model is fixed.
Operators London Stadium 185 have a 25-year contract to manage and operate the stadium but again long term West Ham are understood to be willing to take over that contract should Vinci decide to pull out or be stripped of the contract.
In the distant future, a London Stadium owned by Newham and managed and operated by West Ham would seem to be the best of both worlds and the right way forward. How long this will take only time will tell.