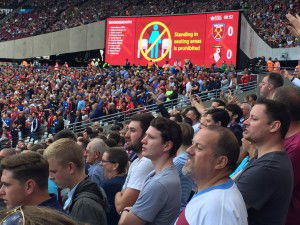 London Borough of Newham safety officials say they continue to be concerned with the persistent standing by West Ham supporters in the upper tier blocks of 215, 216 and 217 of the London Stadium due to the rake and height.
They told members of the London Stadium Safety Advisory Board in April that: "Steps taken so far need to be more effective in preventing persistent standing. It was suggested that the front three rows be taken out for safety.
"West Ham has banned some of the ringleaders but this hasn't stopped the problem. It was stressed that the Council can change the 'S Factor' and essentially prohibit the use of those seats and will if it continues as persistent standing breaches the Ground Regulations, FA Regulations and Green Guide recommendations."
The official minutes add "CCTV shows that there is a trend of standing in those areas and that the fans don't sit when asked by the stewards. Suggested that a different demographic is moved into that area. Members were reminded that it was within the power of the club and stadium operator to deal with this."
Safety Advisory Board members considered and suggested West Ham United review best practices from other stadiums including family enclosures to limit bad behaviour and persistent standing in the upper tiers.