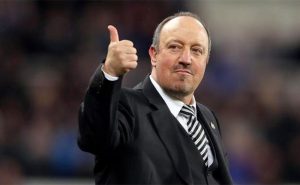 Rafa Benitez has come out on top of a Claret and Hugh poll on who supporters would like to see as the West Ham manage next season. The Spaniard took over 41% of the 4,452 fans voting yesterday's poll.
The 58-year-old has less than a year on a three-year contract with Newcastle which he signed in March 2016 thought to be worth around £3.3m per season.
The terms of compensation for his early departure are unknown at the moment but he won't come cheap. Benitez has refused to sign an extension with the Magpies and recently said: "I need clarity before the summer… as soon as possible.
"It's very clear. Everybody, the fans, they have the same feeling, and it's something that we need to clarify. I need the club to do the right things. To clarify our ambitions and go for that."
In second place in the poll is Unai Emery with nearly 16% of the vote, his contract with PSG finishes on 19th May after his last Ligue 1 game in France. Unfortunately, Emery doesn't speak English which could a barrier for the West Ham job but then again the Spaniard doesn't speak very good French either.
In third place was David Moyes with 13.5% of the vote, many who continue to back Moyes point out he did what was asked in keeping West Ham up and should be given an opportunity to build his own team this summer by having control of the transfers and be given a full season.
In fourth place was Thomas Tuchel with nearly 13% of the vote although he is hotly tipped to take over the PSG manager job replacing Unai Emery.
Former Watford manager Marco Silva was the least favored manager for next season with just 8% of the vote. Another 7.8% voted for none of the above.
Full results: 4,452 votes Benitez 1,859 (41.76%) Emery 708 (15.9%) Moyes 603 (13.54%) Tuchel 576 (12.94%) Silva 357 (8.02%) None of the Above 389 (7.84%)