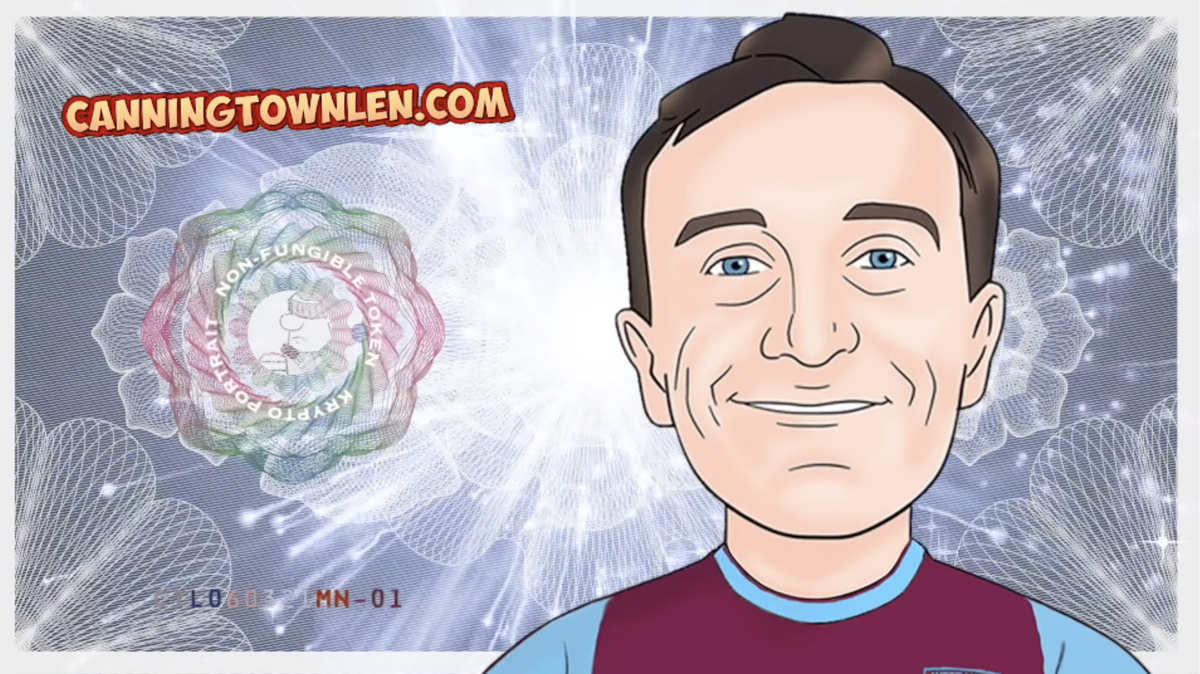 Friend of  Claret and Hugh, animator and film-maker Canning Town Len has completed his 50 piece West Ham crypto portrait collection on Opensea.io.
This NFT project, the first West Ham related project in this medium, has taken the entire month of March to complete, with nearly 40% of the collectables already sold.
"These may become more scarce than I originally planned"  Len told C&H.
"With lockdown restrictions lifting, it's probably time to get back to planning a sequel to my 2019 docu-film project Everybody's Second Team, and leave the NFT's alone, and let the cryptocurrency gain value over time This week is full of meetings with other football clubs, NFT and Crypto Companies, and I'm uncertain that I can spare so much time out of my schedule and still create animated films – time will tell."
"I'm sure that might please the people who have bought crypto portraits though, who may now own something very rare indeed"
Canning Town Len has created fifty animated portraits of renowned West Ham United figures for future generations to treasure. The 50th and final portrait of the collection is dedicated to John Lyall, with collectable number 006 reserved for Bobby Moore, 010 for Trevor Brooking and 004 for Billy Bonds.
"Who know's what the future brings, and what will become of this collection? I may return when NFTs become a little more popular and accessible to the fans. I would have liked to gift them to my loyal customer base, but his proved impossible – so I'm hoping this will change over time."
"I will certainly be keeping an eye out for developments, and recommend that others do too – It's always a good thing to be involved at the start, and NFTs certainly aren't going anywhere."