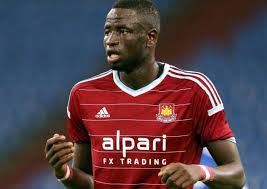 Earlier today ClaretandHugh nailed its colours to the mast and took plenty of stick for doing so! Twas ever thus.
We have always believed the African Nations Cup is played at the wrong time of the year and some may argue that given the ebola outbreak it may have been better to cancel or postpone it.
We are told it is now being played in a safe environment and all is well. Let's pray so!
West Ham face four games in nine days between the end of December and early January after which Alex Song, Cheik Kouyate and Diafra Sakho could be missing until February.
Sam Allardyce and the rest of the club believe our season could be derailed by the event. It would be a super optimist who would disagree. 
In our earlier piece on the subject we suggested that fans made their feelings known whenever they met the players, wrote to them at the club or even let them know from the terraces – via a chant – they would prefer them to remain at Upton Park.
This brought an "outraged" and "disgusted" reaction from one kind soul who suggested I was either drunk when I wrote it or had the mentality of a six year old who forgotten to hit the delete button. 
I remain unapologetic despite arguments that the club knew what it was doing when buying the Africans in a year when the tournament was being held. Err, did anyone expect Sakho to be doing so ….!?
I'm not a great lover of international football at the best of times. Indeed I can't remember the last time I watched England over 90 minutes.
I do, however, love West Ham United with a passion and care very much indeed how we perform for the rest of the season in league and FA Cup. Sorry Senegal and Cameroon but I feel no allegiance to you whatsoever.
Maybe I'm digging an even bigger hole for myself here but you know what – I really don't care because even though my truth may be unpalatable to some, it remains my truth.
The injury suffered by Diafra on a Senegal treatment table during his last trip on international duty was quite shocking and will almost certainly mean our own medics will travel to the tournament with him and Kouyate.
Should the duo and Alex Song wish to represent their countries they will and that's an end to the matter but please, let nobody start claiming the moral high ground because some of us put our club before countries with which we have no connection whatsoever.
If the fans choose to see the boys off in silence, no problem, but I for one believe this tournament is ill timed and as a result tend to put my club first.
No apologies …no retractions!