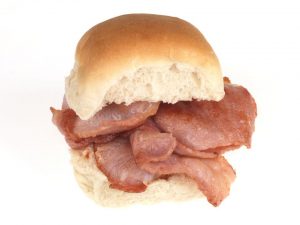 There will no bacon sandwiches on the menu for Patrice Evra at Rush Green training ground.
According to a report in the Manchester Evening news in 2014, a bizarre row over bacon sandwiches in a lounge at Manchester Airport broke out between David Moyes and Patrice Evra before the pair jetted out for a Manchester United Champions League away match.
Staff at the airport are said to have laid on the bacon butties as a goodwill gesture but Moyes was reportedly furious with Evra picked one up and proceeded to eat it in front of the Scott.
On the flight the mischievous defender is rumoured to have got his own back by making a passenger announcement, explaining that there had been a change to the in-flight menu and that it would be bacon sandwiches all round.
That did not go down well with Moyes who was not amused by the reaction of his player.