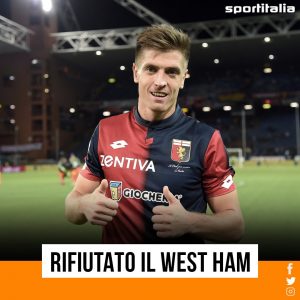 A Report by Alfredo Pedulla from Corriere dello Sport that West Ham have had a €35m (£31m) offer for Krzysztof Piatek turned down by Genoa has been dismissed by sources close to the Italian club.
Piatek, who joined Genoa last summer from Cracovia Krakow for €4.5m has scored 19 goals in 21 games across all competitions. Astonishingly, nine of those goals came in his first seven league games for Genoa.
However, a source close to Genoa says no such formal bid has been received by the club so there was nothing to reject.
With the situation with Marko Arnautovic yet to be resolved the timing of a formal bid to Genoa would seem a little premature at this stage. The source refused to rule out whether there is any interest and whether a future bid could be made for the striker.
AC Milan is understood to be front-runners in landing 23-year-old striker although Real Madrid are also reported to show serious interest.