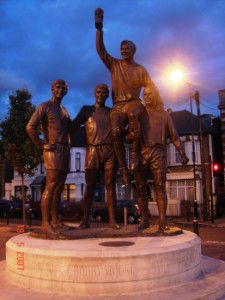 Today ClaretandHugh asked  Newham's council press office about progress to relocate the Champions statue on the corner of Green Street and Baking road we were told:
"There is no further update to this at this stage, the comment we previously gave the Newham Recorder is below is still valid"
 A council spokesperson said: "No decision has been made on whether or not to relocate the statue. Any such decision would  have to be made at a future Cabinet meeting. Stringent conditions have been placed on the relocation of the Champions Sculpture to Queen Elizabeth Olympic Park that must be met before any move is agreed. Councillors agreed that it could only be moved once a fully funded plan was in place to improve the junction in Barking Road, where the sculpture currently stands, after it has been relocated. The conditions also included the installation of a piece of public art linking the area to West Ham United and that the road improvements and the costs of moving the sculpture should be funded by partners."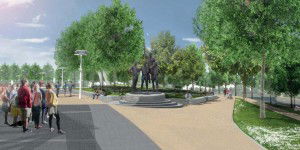 So it appears the bronze statue featuring Bobby Moore, Martin Peters and Geoff Hurst will be staying where it is for the time being despite planning permission granted for it's relocation last year.
In January this year David Gold tweeted out:  "The junction with Green St and Barking Rd is dangerous and needs to be reconfigured. You have too Move the statue dg"
In May Gold added:  "The World Cup statue will becoming with us to the new stadium. dg"
Last month DG repeated "The plan is to move the statue of our 1966 World Cup heroes to the OS. dg"