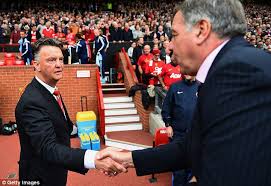 Luis Van Gaal's lack of hospitality has left a bad taste in Sam Allardyce's mouth!
Sam is having a moan-up in his London Evening Standard column about not getting a drink after the game at Old Trafford last Saturday.
Sam explained that a post drink valued tradition as far as he and most managers are concerned.
And he added: "Which is why I was surprised and, yes, disappointed, that there was no such invitation following our match at Old Trafford last weekend.
"When all was done and dusted after the match, I went to where Sir Alex Ferguson was invariably waiting with a glass of wine — and everything had changed. I think the room is now used for analysis.
"I was told it didn't happen any more, so I said "fair enough" and left.
Louis van Gaal has every right to do things his way now, he's the manager of Manchester United, but it struck a discordant note with me all the same.
"I don't imagine there'll be any such problems when I meet up with Harry Redknapp after Sunday's game."
Err, well no Sam because you say you always make sure you do it….???