I have supported this club under 12 managers and I genuinely believe that Slaven Bilic is the most passionate I've seen. And he is most certainly the biggest and most likeable personality to ever hold the reins of our mighty Hammers. Only very special people make it onto my personal FB cover page. He just did. SUPER SLAV!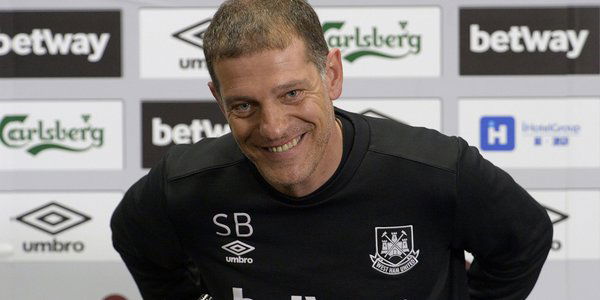 I first wrote these words on the ClaretandHugh Facebook forum  @https://www.facebook.com/groups/363174467150521/ last night.
I  have decided to bring them to a wider audience because too often stuff written and said here is either misunderstood or misrepresented because people come with their own agendas on what we supposedly believe.
On a very quiet news day and with the next match still eight days away it's the perfect time to make it clear where I stand personally on Slav and there's not much to add to the above.
Let me make it clear I am a massive Slav fan and believe that this time next year he will have become established as a regular top ten or top eight manager.
His intelligence and ambassadorial skills  lift him way above the vast majority of other bosses in the Premier League.
In less than two years he has suffered all the highs and lows – a fabulous first season despite an unwanted Euro campaign with half the squad in Ireland and the other half on the mainland whilst pursuing new players, getting rid of others and introducing a new style of play.
Despite that, he master-minded a fantastic goodbye to the 'old lady' which saw us leave the dour, although perhaps required, period under Allardyce.
This season he  has had to cope with a new stadium – which he always explained would be like playing away every week – a disastrous and confused summer signing situation and the Dimi Payet affair.
He has emerged as a man now totally in control having handled every scenario with enormous dignity, humility and grace simply because he is a highly intelligent man who has his own well mannered approach to life.
We now sit in tenth place and the football gets better by the match – the last 90 minutes against West Brom being probably the best we have played this season.
I've been around this game as a journo for a very long time and I can think of no manager with such an endearing and passionate personality, demonstrated brilliantly by his outburst against a microphone last weekend!
This man cares for WHUFC so much – he is one of us, and as one CandH FB forum member commented, "carries on exactly as we would if we were manager."
So let me make this quite clear. If we run polls on him or any other manager it's because we consider a situation of sufficient interest to give our followers a voice.
If I was marking the 12 managers in terms of VISIBLE visible passion Slav would be my pick.