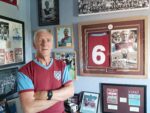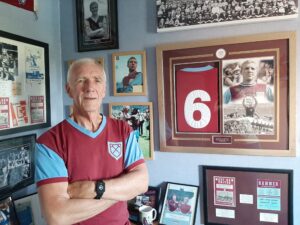 By CandH's top blogger Allen Cummings
The football, and of course that brilliant result, was centre stage on Sky Sports on Sunday when we took on and beat those arrogant north London neighbours.
But away from the game itself Alex Scott, Jamie Redknapp and Micah Richards also discussed the reasons for the remarkable transformation in the form and fortunes of West Ham this season.
It was of course agreed that on the field David Moyes had done a superb job of blending his players into a team – in every sense of the word – and it's that togetherness and positive attitude, as much as any individual brilliance, that has been at the heart of our run of amazing performances and results.
Interestingly the experts also suggested off the field Moyes and his players have possibly benefitted from the lack of fans in grounds.
Think back to last season, when the London Stadium was a hotbed of discontent, as the club stared relegation in the face – as a consequence of the ill-fated Pellegrini era and festering anger at the owners was reaching fever pitch.
There were, of course, the protests and marches creating a toxic atmosphere and all the wrong headlines surrounded the club.
Then, overnight, fans were barred from games and the team went on a run that eventually secured safety in style.
The fans' exclusion has continued this season – and so has the Hammers' excellent form. Coincidence? Redknapp and Richards, who both have personal experience of playing under pressure in the Premier League think not.
Jamie, with his close family ties to West Ham, believes there has to be a correlation between no fans and improved form.
It's a touchy subject with certain sections of our fanbase who resent any such suggestion of opposition to the board as having a detrimental effect on the team.
Or, indeed, that an over-critical reaction to some team selections for 'edgy' games could have created the wrong kind of negativity within the stadium.
Of course it's a vital part of football's bigger picture for supporters to be able to express their feelings. It's our right as paying customers – all part of the game we love, and has always been down the generations.
But there is a difference between making your feelings known about how the team, or even certain individuals, are performing, and some of the sheer fury and even hatred we have seen displayed in recent seasons.
No-one would expect David Moyes or any of his players to say publicly they have been effected by what had been going on in the background but as professional as they are, the atmosphere must have had some effect on them.
That is not there at the moment – which is what Messrs Scott, Redknapp and Richards were alluding to.
Of course all West Ham fans are desperate to get back to watching their team live and in the flesh again. I certainly can't wait to walk through those turnstiles at the London Stadium.
Hopefully it will be at the start of the 2021-22 season, I can't see it being before. Hopefully it will be to see the continuation of David Moyes' reshaping of our team and rebuilding of our club.
Hopefully, first and foremost, it will be to enjoy the football because for the vast majority of us right now, that's what really matters above all else.