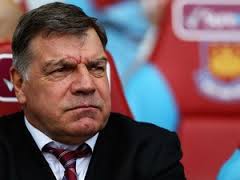 Sam Allardyce – whether you like it or not – is never slow to call his players out if they're not doing it!
Some hold the view this should never happen and that however poorly a player performs you should say something positive or stay schtuum.
That's not the manager's way and never will be as was demonstrated in the case of Carlton Cole at Goodison Park.
He says what needs to be said and in my book there's only a problem if he or others repeat it at other points and after other matches as an excuse.
To be perfectly honest the big fella's 27 minutes on the pitch were a total disaster and I've yet to hear an explanation worth listening to for that from anyone who was at the game.
Allardyce was as kind as one could expect saying: "We couldn't get out of our half and Andy had to come on to get us out of our half more because Carlton's hold-up play wasn't as good as it normally is. Andy held it up more,
I don't think there were man who wouldn't agree that had we not been on such a run of form, AC would have been on from the start.
But to launch him straight back into the team the minute he was avaialable would have sent out a message of favourtism and reinforce the view we are a "one man team."
Of Carroll's dislocated finger, Allardyce said: "Andy didn't seem to have much trouble with the physio popping it back in for him. It made me wince but it didn't make Andy."