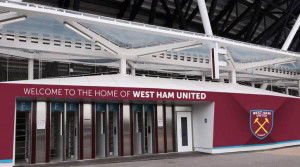 The sight of Hammers fans patiently waiting to collect paper tickets will soon be a thing of the past next season.
The club has confirmed  the very latest in turnstile technology will be employed at the former Olympic Stadium.
. It is understood that could include access using your smartphone in the future which is being piloted in Europe.
Already used by many of the world's largest stadia, the technology in place will enable supporters to enter the ground using a number of different means, via a range of touch points embedded into the Stadium's eco-system.
The traditional access cards and paper tickets will still be applicable, but supporters will also be able to print their tickets at home. Supporters can therefore avoid queues on the day for collection, and instead request that their ticket be sent via email. All season ticket holders will be sent new season ticket access cards before next season.
Whatever the preferred option, supporters will have far greater flexibility and significantly quicker, simpler entry into the stadium.
Every turnstile is also equipped with special indicators to signify concession tickets so that any persons trying to enter the Stadium with an incorrect age concession ticket will be denied entry, the ticket will become void and will be confiscated.
With the introduction of £99 Season Tickets for Under-16s, the Club have gone to great lengths to prevent abuse and will apply the strictest penalties to anyone seeking to misuse a concession ticket. West Ham also confirmed they hope to use the system to institute a series of reward schemes for supporters, as Manchester City are now doing at the Etihad Stadium.