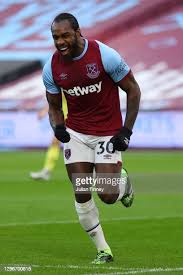 It's very kind of QPR striker Charlie Austin to be giving Mikey Antonio a personal boost by talking up his England chances BUT….!
To be perfectly frank as a Hammer the last thing in the world I want to happen is for our top man to be joining up with either the Three Lions or Jamaica.
It seems to me that he is still nursing his hammies this season and I'm pretty well convinced too that Gareth Southgate will have already established he could be a risk at Euro 2000.
And should he decide to switch his allegiance to Jamaica I'm not sure he will be doing the best either for himself or the Hammers.
Don't get me wrong the boy deserves to achieve as much  from his career as possible but the problems which could follow from club, European and international involvement is not something I or other Hammers will really want to consider.
Jamaica are reported to be aiming at including the centre forward in their squads for the CONCACAF World Cup qualifiers against Mexico and Costa Rica in September.