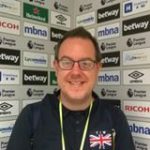 ClaretandHugh's ratings man Niall McDonald has been marking up the player's performances for two or three years now after games . And in this blog he finds it difficult to have much sympathy with the manager for some of the signings and adjustments he has made given our current plight.
By Niall McDonald
With the salary being paid all the eggs are in the Pellegrini basket, for better or worse.
I think a lot of the opinion and criticism is fair though. Four to five bad results/performances in a row is a bad run, whichever way you look at it.
I cant give the manager much sympathy if Fabianski gets injured and he doesn't have adequate cover to replace Adrian.
Nor can I sympathise too much over the loss of Antonio, who has never proved consistent in any of the many positions he's been played in.
I scratch my head sometimes wondering how we end up being exposed in every area of the team at the same time – weak in goal, weak at the back, slow and ponderous in midfield, no support for a striker who never gets the ball… surely out of 11 we can get at least 6 doing ok???!!!