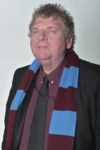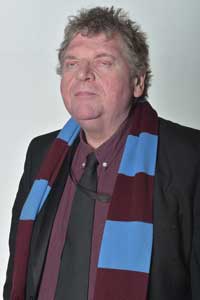 Blind Hammer is puzzled by West Ham's neglect of a sporting icon.

After the justified celebration of Mark Noble's career, I am reminded of the puzzling neglect of West Ham's second ever greatest player.

I am of course referring to England and West Ham's World Cup winning hat trick hero, Sir Geoff Hurst.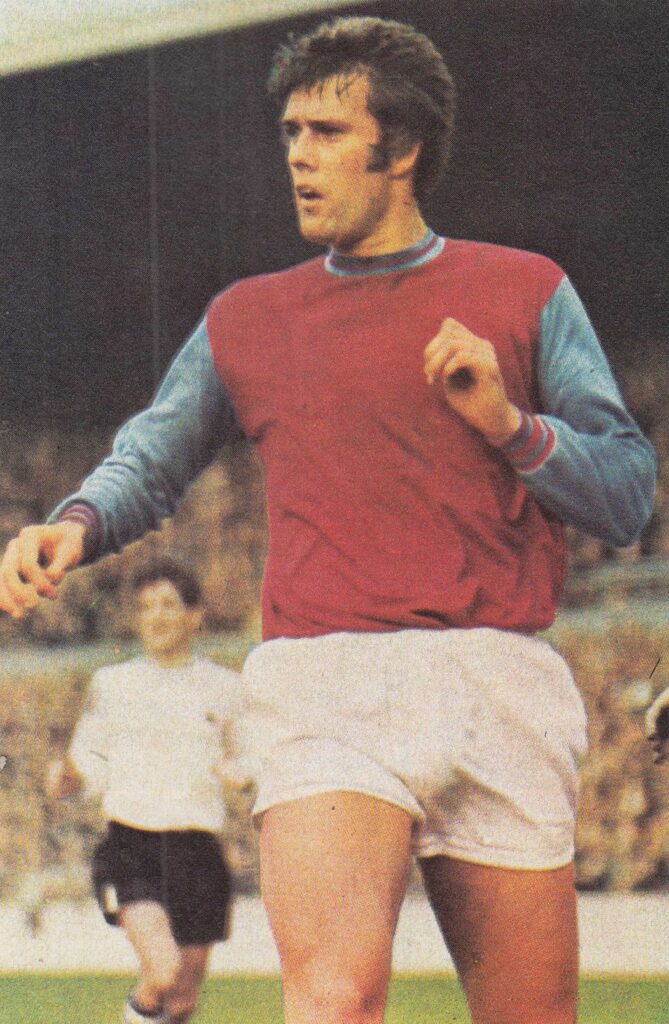 Hurst's historic feats for England are well known but less remembered was his equally heroic commitment and work for West Ham.
In an age of savage tackling, so bad that Hurst had to wear additional shin pads on the back of his legs, the man  delivered goals for over a decade.

In an often under performing and struggling team Hurst scored 242 goals in 500 first team appearances. Given that his early West Ham career, was as a half back and not a forward, this record is extraordinary.

Hurst scored, on average, in every second game. In other words, on average, he was a 20 goal a season striker for a decade at West Ham.
Remember he loyally provided this lethal threat in a team which often under performed, without complaint, especially in his later career.

What is even more extraordinary is that these goal scoring feats were not the strongest part of his game. Hurst caused the early retirement of Jimmy Greaves from Ramsey's England, not because he was a more lethal finisher, but because he provided so much more than Greaves ever could.
He made the whole offensive unit of the team work with his consistent hard work and dogged hold up play. He allowed the advance of the midfield despite the ferocious assaults of centre backs.
He was, without doubt, the best controller of a ball with his chest I have ever seen. Though blind for decades I never hear of teams deliberately aiming a ball to a striker's chest, as Bobby Moore delighted in providing, confident that in the vast majority of cases, Hurst would skilfully control the ball, turning away to retain possession from hapless defenders.

Clyde Best explained how important Hurst was in his breakthrough season. He explained how Hurst mentored and coached him. The result was spectacular, Best scored over 20 goals.

This resulted in one of the more disgraceful episodes in West Ham's history. The club decided to cash in on Hurst, selling a home grown, one club loyal legend to Stoke for £80,000. Hurst in his own autobiography explained how disappointed he was by West Ham's obvious determination to move him on.

If West Ham thought selling Hurst was good business, as they had a new main man in Clyde Best, they were proved disastrously wrong.

Best in his autobiography described how his play collapsed in his next season, without the guidance of support of Hurst. It was, all in all, a calamitous decision for both West Ham and Best. We can only wonder what Best would have achieve with another season of development support from Hurst.

Mark Noble magnificently achieved 550 appearances for West Ham. Many of his appearances in later years came from the bench.
Yet Hurst played 500 times for West Ham in the most demanding and difficult position. I cannot recall a single game in which he appeared as a substitute. If West Ham had not prematurely ended his career and cashed in he would have undoubtedly exceeded even Noble's tremendous service.

In his pomp Hurst powered England to 1966 global glory, and was the main forward man still in 1970 Mexico, in what many consider the best ever England team.
For West Ham, Hurst powered a threat, scoring in the 1964 FA Cup Final win, then leading the forward line in the European Cup Winners Cup success in 1965, and in the following season,1966, reaching the semi finals of the European Cup Winners Cup and the final of the League Cup.

I adore, as a life long supporter, both Billy Bonds and Trevor Brooking. Both quite rightly have stands named after them at the London Stadium.
Yet the lack of similar recognition for Hurst borders on insulting. Manchester City have the Colin Bell stand, a fine player but never in Hurst's class as a global footballing icon.
Wolves have a Billy Wright stand, again a fine player who nevertheless never won anything for England, let alone score a hat trick in a World Cup Final. Fulham have the Johnny Haynes stand, a player whose fame palls beside the reputation of Hurst.
Liverpool have the Sir Kenny Dalgleish stand, an undeniable Liverpool great but who only scored 2 goals in 2 World Cups, one of which was against minnows New Zealand.

It is an anomaly at West Ham that whilst their teams have consistently under achieved, they have nevertheless vastly over achieved in producing great players, including 2 footballing knighthoods.
Amazingly West Ham have produced 2 of the 3 players achieving footballing knighthoods from the modern era, Sir Trevor Brooking joining Sir Geoff Hurst and Sir Kenny Dalglish.
Yet in this pantheon of greatness Hurst is bizarrely forgotten, despite achieving football heights unparalleled and unsurpassed for over 60 years at West Ham.
West Ham need to reclaim the legend of a foot balling great. Geoff Hurst and I went to the same school in Chelmsford. Although born in Lancashire he was in reality a home grown Essex boy who rewarded West Ham and England with the most spectacular achievements in their history. Renaming the West Stand in his honour would be a start.

It is time for Sir Geoffrey Charles Hurst MBE, to receive the recognition his he deserves.

David Griffith