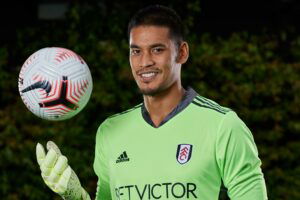 Alphonse Areola did enough in the victory at Old Trafford to show he will present a  strong challenge to Lukasz Fabianski this season.
And that's exactly what David Moyes wanted and expected when he signed the stopper on loan this summer – a number one goalkeeper challenging to  take up that role at West Ham.
He – like Zouma in his first match – demonstrated that he is a serious Moyes upgrade on what we have seen at the club under previous managers.
And speaking to reporters Moysie said: "Alphonse has played his way into us. The competition level now is [high]. I knew when I was bringing him in I was bringing in a No.1 goalkeeper and he said he was happy to come here and compete. 
I thought Lukasz played very well, although there were a few questions about the goal against Manchester United but overall I thought Lukasz played really well and Alphonse did as well and I think he will get better. 
So  all those players are growing into us a little bit, I am not in a massive hurry to make huge changes yet but I want all those players to get used to how we work and what we do and come into the next line of players which are getting added to the squad. Alphonse is one of them."–