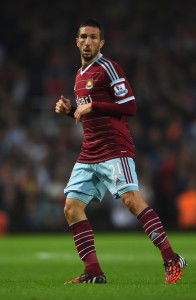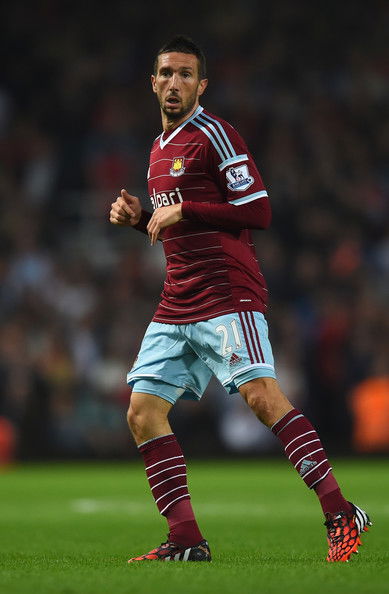 Chelsea 2 Irons 0
West Ham need feel no shame at this defeat after battling s heroically against a Chelsea team playing at the very top of their game.
Most of Europe's best would have failed to resist the leaders on this day as they produced football right out of the top drawer.
But particularly in the late stages the Hammers showed why they had risen to fourth place with some very enterprising football.
Goals from John Terry in the 31st minute and a quite amazing effort from Diego Costa early in the second were enough to win a game for the hosts.
Terry stabbed home to give his team a first half lead and when Kouyate lost possession early in the second half Costa leapt onto a through ball and left a bemused Jenkinson, Collins and Reid trailing in his week before firing home.
Sam Allardyce had made three second half substitutions – Song coming on in the 59th minute with Sakho for Carroll and Noble. Song made a real difference and when  Amalfitano arrived later things started happening for the Irons.
The hosts had dominated and could have taken the lead after four minutes when a Wilian cross flew across the face of our back line but Oscar blasted over the top from close range.
And Cahill went close when heading over the top from a Terry clipped ball after getting above Jenkinson at the far post.
The Blues were threatening whenever they were on the ball but the Irons weren't helped by referee Michael Oliver who pulled up Carroll for a perfectly good  tackle as we threatened to break before booking Collins after he had got a touch on the ball as Costa broke through.
Adrian meanwhile was forced into two fabulous saves from a Cahill shot and Wilian after the Chelsea player's run and shot had taken a deflection.
The Hammers had a moment when Noble was brought down and a Valencia free kick went over the top but it was by and large a fierce rearguard action.
Valencia – showed great pace to relieve the pressure on our defence – and Carroll, looking back to his best, were threatening  on our rare forays forward.
The Hammers stepped things up in the second period and although they had more possession with Song looking strong in midfield it wasn't until late on they made a real impact.
Valencia's pace was a threat though and it was disappointing when he set off on a long raking run but couldn't find a way past the last defender.
The Hammers attempted to push the full backs forward on the flanks but the Chelsea defence was never really under pressure until an Amalfitano header beat Courtois and slid wide. Second later the midfielder clipped a shot over the keeper but it hit the upright.
So no shame and Arsenal next. COYI