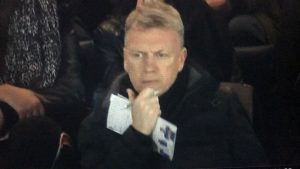 Well, there's just over a week left and apparently we are no closer to signing anybody in this winter window either on loan or permanently.
Obviously that will send a few into a bigger flap than swans when you annoy their young, and it will unquestionably raise the vitriol of the 'board out' mob to the usual levels.
There can be no doubt that the Davids had found a manager 'made in heaven' given his refusal to splash the cash and insistence that he will "treat the owners' money like his own."
We do have a 'tight' board…they don't like spending fortunes and such buys as Manu Lanzini (£8 million) and Michail Antonio (£7 million) probably show why.
More recently the £25 million for Marko Arnautovic (hardly a fortune these days ) demonstrates the value is there if you look hard enough  – the problem has been in the past that it's all been hit and miss, or should that be hit and hope.
There have been far too many bad buys but I believe that is all about to stop under Moyes and the lack of activity alongside the rise up the league should be seen for what it is.
The new manager is taking a very firm grip on all things West Ham and he is only going to move on players HE WANTS – rather than those the board may fancy. That's great news. It has been the wrong way around for too long.
I do believe there will be a couple of arrivals but reckon they are more likely to be loans than permanent signings  given the January window only usually throws up permanent signings who aren't wanted by their clubs for any amount of reasons – form, attitude etc.
Moyes is not a guy to lumber himself with second or third choices when he wants the Hammers job big time and money to spend on serious targets in the summer.
The guy is doing a great job whatever the haters on social media may have to say and if – as I believe – he gains total control over our recruitment policy  this club will – in my view – be on the way to that elusive next level.