Tomas Soucek reckons he's fit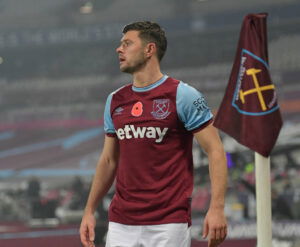 …David Moyes isn't sure!
But there are many who believe that gash on his head or not the time has come to rest the player given the level he has been at this season.
And thereby hangs a problem. If we intend to retain two defensive midfielders against Liverpool – who is the Soucek replacement?
Personally I'd fear for Tomas today – one header and who knows what might happen so it appears that there may will need to be a reshuffle as surely Neither Nobes – if fit  – or Alex Kral can be launched into such a tricky match after long absences or, in Kral's case, little action at all.
We aren't entirely sure whether Aaron Cresswell will be fit so we could well face plenty of problems from a dynamic Liverpool side although Issa Diop did look in fine form against Saints in the FA Cup defeat.
Shame though it is given his fine creative abilities,  the option at defensive midfield should Soucek not be risked.  the answer would appear to be bringing Manu into a more deep lying role.
He's looked ok in there in the past and alongside Declan will be the best answer as far as I can see with  Benny being recalled for HOPEFULLY some long overdue creativity.
We are going for a double over the second placed team so let's be optimistic. it would be pure West Ham for us to get the result.
Here's my team should neither Cress or Soucek make it : Fabianski; Johnson, Dawson, Zouma, Diop; Rice, Lanzini; Benrahma, Fornals, Bowen,Antonio