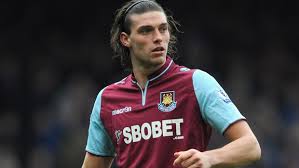 West Ham United's moves against the FA's own rule book could see red-carded Andy Carroll playing on for months!
The club are seeking a new arbitration panel based on Rule K where the club believes the FA is in breach of its own rules.
Claretandhugh has looked at the Rule and have discovered that the validity of the FA's moves so far are about to be seriously tested by the Londoners and could last for weeks or months!.
Sources inside the club have revealed exclusively that words within Rule K may be interpreted as demonstrating the ruling body has exceeded its  own powers whilst possibly being guilty of 'procedural unfairness.'
As a result the Hammers want a new arbitration panel to study their complaint issue against the FA itself.
Whilst the rule book is designed to cover 'club v club' disputes there is a precedent to cover the Hammers action via a Handsworth United arbitration under the same rule against the FA on a promotion issue.
The ruling body has to give permission for an arbitration but should they refuse then the Londoners are set to go to the High Court seeking an injunction against the decision.
And should the 'wigs' hand down such a judgement, the Carroll issue could rumble on for months allowing him to play on until a final decision is reached