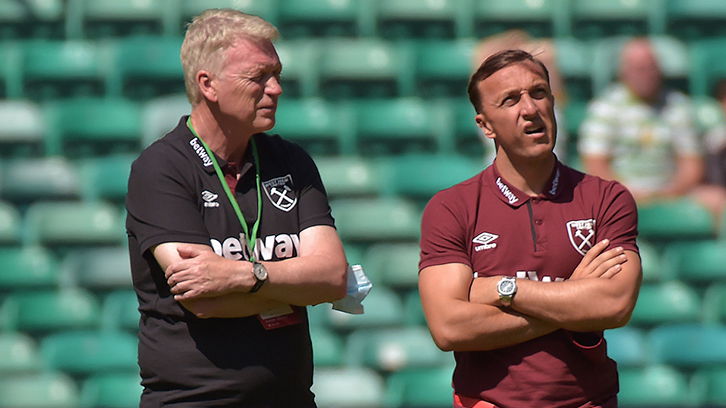 West Ham captain Mark Noble has spoken to the press in Croatia ahead of tomorrow night UEFA's Europa League opener.
Nobes said "It is an amazing occasion we did fantastically well to get to this point, we were three points of fthe Champions League so it has been 3 or 4 months of excitement.
We are here now, we have a full squad with no injuries and everybody ready to play and four new signings who are used to this level, so we are well prepared and really excited about everything."
"It showed last year that apart from the top two or three teams we had the best record this year so coming into European competition we are ready.
Dinamo have a good team, we saw their results against Spurs which was pretty impressive but we come here unbeaten in the Premier League. We are not used to the Europa League but we are used to winning. 2,000 West Ham fans have travelled here and hopefully, we will get the result we want."
On West Ham fans the skipper added "I think they're just over the moon that they can watch us play again, and it's an added bonus we're playing in Europe again. I'd also say it's a bonus they probably see it as a three day holiday instead of an overnight
The weather's great and I've heard the nightlife in Zagreb is pretty good as well, so I don't think they'll be sitting in their hotel rooms!
Everywhere we've been in the world, whether it's pre-season games in Europe or in the Premier League, we always get fantastic support. We're used to that.
Dinamo are aware we've got fantastic support as well so I'm hoping the atmosphere is great tomorrow night, and we're hoping that we can leave with a win because after the 18 months we've had without fans in, for us to come back into the Europa League and give our fans a European win would be fantastic.
The games are coming thick and fast and we are lucky to have a fully fit squad of players the manager can choose from, and we're really looking forward to tomorrow night."
On his own future, Mr Westham commented "Of course I've thought about it. For me, this year, whether I'm playing or not, it's the same situation: my role is to support the manager, the team and the players we've got.
We've got a lot of games coming up and I'm sure the manager will have to use his squad this season and have to rotate the players.
I'm concentrating on playing first and being ready for when the manager needs me to play, but my main aim this season is to make sure we have a good Premier League season, hopefully, progress through the Europa League group stages and end my playing career at West Ham on a high note.
Getting into this competition last year was fantastic and once you enter a competition, the aim is to win it – and I don't see why we can't do that.