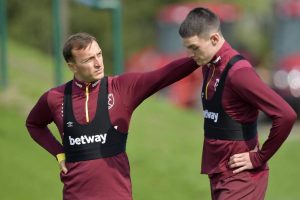 By Hughie Southon
Mark Noble is continuing to drop bombshells in his first major interview since becoming director of football at West Ham,.
Having made it clear that there is no chance of David Moyes being sacked right now he has turned his attention to the Declan Rice situation and, in passing, the danger of relegation,
Nobody will argue with the club's most loyal servant inheriting the position he takes up in January and Nobes being Nobes there is a refusal to do anything but tell the absolute truth about each situation.
And whilst everybody has been hinting and lately accepting that Dec will be on his way, Nobes has no problem confirming it very emphatically indeed.
He told the Guardian: "Whether you think things will get dicey [relegation] at West Ham – and I don't believe they will – we just can't cope financially with the top teams.
He adds "We can try our hardest to recruit the best players that the top five or six don't buy – and we might get lucky with a few that slip through the net – but you can't compete with these teams.
"They're financially too powerful. If a top club wants Declan Rice they're just going to pay for him, full stop. You've seen it with Jack Grealish, with the best players.
"If the top boys want them, we ain't got a chance."
Fair play to Mark who appears to be the direct opposite to David Moyes in media terms.
He is telling it as he sees it. We may not want to hear the truth on occasions – preferring our own version of how things might work out – but it seems we will be told things as they are from the director of football.