Mark Noble has told West Ham boss David Moyes to leave him on the bench against Manchester City on Sunday.
The Hammers take on Pep Guardiola's side in what could be a huge game at the top of the table.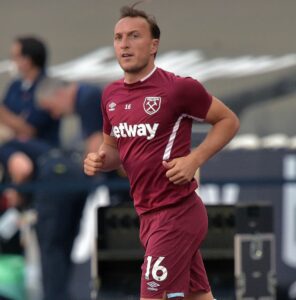 City are currently three points clear of second-placed Liverpool and know that two wins, against the Irons and Aston Villa, will see them crowned champions.
Sunday's game is also Noble's final home game as a Hammer, and he insists that he would be more than happy to watch on from the bench if it is going to give the Irons a better chance.
And he also says that he is willing to refuse to take a penalty if the Irons get one, having come off the bench to take one against Manchester United and seen his spot-kick saved.
The remarkably humble Hammer said, as per the Daily Mail: "No, not after the one I missed against Manchester United. I just hope everything goes well. 
"I have got a load of people coming but if I am really honest, and people will think I am lying, but I just hope we play well and get a result and we move on to Brighton next Sunday and get into the Europa League spot."
Nobes also maintains that he isn't going to make the mistake of reneging on his retirement promise.
He added: "I've not had enough but I feel like very rarely do people get their exit right in work, in business, you always feel, 'Maybe I will go again'.
"From the feelings I've had this year and what the players have done for us in the games we have had, it's perfect. Because I know what I will do if I don't and I keep on trying to play, I'll regret it and I've never regretted anything up until now."