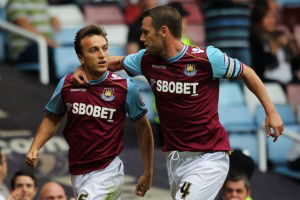 Mark Noble will be hurting badly at his current absence from the team according to former captain Kevin Nolan.
Despite Noble's recent explanation that it's only the team that matters and his acceptance of the situation Nolan clearly knows better.
And he believes the current skipper is the man to lead the Irons into action against Spurs on Wednesday night at Wembley.
He said: "Of course, it will be bothering him that he's not playing. He's captain of the club and right now he's not getting in the side. Nobes will be taking that to heart and will wanting to be doing something to put it right.
"Not being in the team will be killing him, but one thing Mark Noble has got is a great character. Nobes is a great lad. This won't knock him. This will spur him on and make him want to try harder to get back in the team and help the side win games.
"He's got to keep his head down, work hard and be ready for his chance when it comes."
"For me, he's what West Ham need. West Ham need those sorts of players, especially heading into a game like Tottenham away.
"Mark Noble wears his heart on his sleeve and loves West Ham. He's a West Ham boy through and through, and for me he's the perfect fit for the club and the captaincy and the way West Ham play."