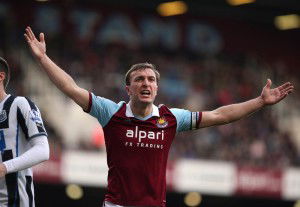 By Max Willow
It was always going to be a difficult task for David Moyes, in his attempt to put together a solid, cohesive formation to take on a talented Watford team. At the end of the day, Watford deserved their victory; they were well organised from the start, and took their scoring chances well.
However, it may have been quite different, if Moyes had used a little more common sense and a touch of imagination. His first major mistake was to choose an aggressive 4-3-3 formation, which left us very prone to frequent counter-attacks. By selecting Mark Noble in central midfield, and Andy Carroll at the end of the park, we were more or less doomed from the start.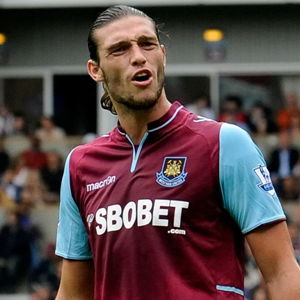 For such an important psychological match (for players and manager alike), he could have easily opted for a compact 4-4-2 formation, improving a weak midfield without compromising our attack.
Before discussing the player performances, I am sure the outcome would have been much better if 1) Moyes played with the back four that was ultimately used (Zabaleta, Reid, Ogbonna, and Creswell), but, 2) strengthening the midfield by using Obiang and Kouyate in holding positions, and using Lanzini and Fernanades as out two attacking midfielders.
He could have allowed Lanzini the license to move centrally, up and down the top third, linking up with the two strikers when required, or falling back to assist the remaining midfielders when Watford counter-attacked. Quite clearly, Moyes has not yet appreciated that Lanzini is most effective and dominant playing in the middle of the park; when he is confined to the left wing, much of his play-making potential is reduced.
Sad to say, that Mark Noble is just not quick enough to justify being selected in the centre of the midfield. Kouyate and Obiang played well enough to fill this function, and the addition of Edimilson Fernandes, playing just behind Lanzini would have added pace and flair to the attacking midfield unit.
The decision to play with two wingers with Andy Carroll as our central striker, was predictable and the Watford gaffer must have been delighted to see the appearance of the big man. Like Noble, Carroll was far too slow; the team may have been justifiably confused to see Carroll chosen as our selected goal-scorer.
As a result, most of the first half saw a mixture of long balls and crosses being targeted directly for Carroll (with nothing to show for it), and some spontaneous free moving passes which looked far more effective. Arnautovic was a reasonable choice on the wing, bearing in mind the absence of Chicharito, Ayew, Antonio, and the decision not to play Martinez.
Had Moyes picked Sakho in the starting set-up, he, together with a second striker, (and Lanzini playing in a central position just behind), would have surely produced a greater variety of attacking options with which Watford may have struggled.
While I am certain that most of the players are going to be criticized for the loss, I for one, am suggesting that David Moyes was the main villain today. Amongst others, Obiang and Kouyate never stopped trying; Winston Reid marshalled the back four in a competent manner, and Zabaleta and Cresswell both put in solid shifts in their dual roles as 'full backs-wing backs'. While Joe Hart did make a spectacular one-handed save from point-blank, he was sadly out of position for Richarlison's goal, and may have done better in preventing the goal.
If we have any notion of improving, Moyes must make some serious considerations about the formation he uses with so many players absent, and seriously think about using players who have greater pace and acceleration for the start of the game. Lanzini must be quickly restored to the central attacking playmaker role.
In addition, Sakho and Fernanades, deserve closer attention, since they offer much more than our ageing battlers, Carroll and Noble. Carroll and Noble can be used as super-subs, but based on previous games, in addition  to today's insipid performance, he must give serious consideration to a number of other players in the first team and U-23 team squads.
If Moyes persists in starting games with both Noble and Carroll, I have grave concerns for our chances of avoiding relegation. Oh and Carroll only took seven  seconds to make his mark on the game with a fairly hallmark bent elbow tackle.
The views expressed here are solely those of the blogger and are not necessarily shared by ClaretandHugh