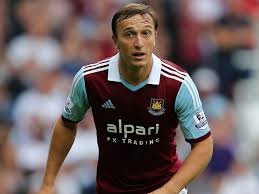 Mark Noble reckons the current West Ham squad is the best he's been involved with in his 10 years as a first team player!
And as a result he and everybody associated with the club are heading for Old Trafford with real belief.
Speaking to the official site he said: "It is definitely the best squad I've been involved in during my ten years as a first team player.
"We are a powerful, strong team now. We've got a lot of skilful players and boys that can finish well so it's a pleasure to be playing at the moment."
On United, he added: "Whereas in previous years we've had to 'park the bus' due to their quality, we're going up there now with a good chance of getting something out of the game. The club, the staff and certainly the players are looking forward to it.
Read Mark's full interview @ www.whufc.com