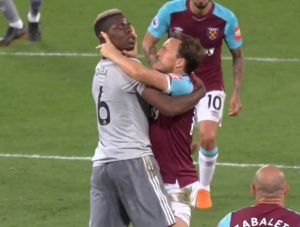 Mark Noble will definitely miss tomorrow night's Carabao Cup clash with Spurs despite some confusion on social media.
It had been suggested that "under a new rule"  suspensions for red cards only applied to the competition in which they were  handed out.
But that is not the case and instead the captain will miss tomorrow night's game plus the games against Burnley on Saturday and the away trip  to Huddersfield on November 10.
A club source confirmed that the skipper would be missing from tomorrow night's fourth round game  declaring: "Sadly, Mark will miss the game and the two following Premier League matches."
Noble's record in picking up cards over the past three season has not been great. He picked up yellows against Bournemouth and Spurs to go with the red he received on Saturday.
In 2016/17 he picked up 11 yellows whilst in 2017/18 he was responsible for incurring the ref's wrath on six occasions when being shown six bringing the tally to 19 and one red over the three campaigns.