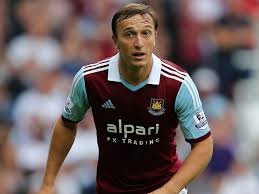 There have been strong hints from the club's official site that Alex Song will make his full debut tomorrow against Liverpool, which leaves the big question who will be dropped.
We all know Sam is unlikely to make big changes the team who drew with Hull City on Monday as that is not his style. Carl Jenkinson is likely to replace Guy Demel if he considers Carl is fully match fit but starting Song gives him a real selection headache.
No-one sees Chek Kouyate or Stewart Downing being dropped after fantastic performances in the first four games so Hammer of the year Mark Noble would be the obviously choice for relegation to the sub bench's to keep the same 4-4-3 attacking formation as Monday night. The trio combination of Zarate, Sakho and Valencia seemed to work well  against Hull so his only other option apart from dropping Nobes would be to revert to a cautious 4-5-1 dropping one of the three strike force.
We all love Noble to bits but I would be interested to see how a Downing, Kouyate, Song midfield with Zarate, Sakho and Valencia up front would start against the reds.
Knowing Sam a mysterious injury will surface making the decision for him before kick out but I hope Noble is not too disappointed if he ends up on the bench tomorrow.