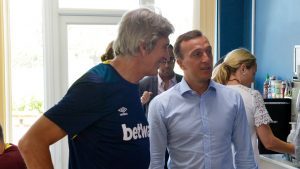 You have to hand it to Mark Noble – the timeless Hammers skipper who continually defies the odds!
Good judges – and few come better than The Ginger Pele  – gave the Hammers loyalist any serious chance of becoming a permanent part of Manuel Pellegrini's plans.
Indeed the manager himself, soon after his arrival, admitted he would stay skipper but added with seemingly heavy significance: "He will be skipper when he plays but I can't tell you how many games that will be!."
That was followed by  Collins – whose judgement would seem pretty nailed on – casting doubts over his future under the Hammers boss.
Reluctantly as he shared his fondness for Noble, Ginge was forced to admit that he didn't believe that the veteran midfielder would struggle under the boss.
He said on BBC 5 last month: "I don't think he fits what Pellegrini is looking for if I'm honest, not sure; Noble will obviously disagree but yeah it's gonna be a tough season for us, I really feel it will be."
But despite the shocking start to the campaign and missing a game through a back injury Nobes returned with a massive performance against Man U and looks nailed on as midfield marshal for some time to come.
Good on yer Mark!