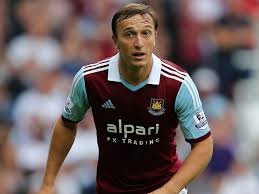 Mark Noble is no better than fifty/fifty to make the Saturday match against Newcastle United.
The midfielder took a kick in the calf during the early stages of the second half in the 'Battle of Goodison Park.'
Mark has been under intensive treatment all week after Stephen Naismith's foul and  nobody can give a proper assessment until the later stages of the week.
A source told us: "Mark is very much involved in a race for fitness and of course it's the last thing we need at this stage with so many other problems.
We have our fingers crossed but it looks no better than even money that he will be available."