Exclusive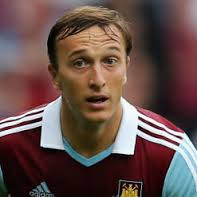 Mark Noble has received a stiff rap across the knuckles for his comments about "some fans not understanding the game" from Hammers 'elder statesman Phil Pakes.
The man considered the best Hammers goalkeeper ever has always been a huge favourite with the Irons faithful and doesn't believe they deserved to be spoken of in such a way.
And he told ClaretandHugh exclusively: "First and foremost you just can't talk about fans like that. You just don't do it. It's not on. For the skipper. or any other player for that matter, to be addressing his fans like that isn't right at all.
"To say fans don't understand the game is just not right – fans live and breath the game and understand enough to know when a player isn't performing and that's what this was about. Fans do understand football believe me!"
Parkes believes that Noble's time at the club is now up and said: "I'm afraid the simple truth is he's not good enough anymore. He never had a lot of pace but it seems this season that what he had has gone.
"It comes to everybody and he has been a magnificent servant but it's clear to me that Cheik Kouyate is the man for midfield and Sam Byram needs to be given a run at right back.
"I was saying this at the beginning of the season and nothing I have seen this season has changed my mind."