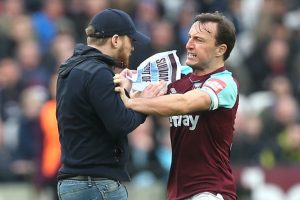 Mark Noble has explained he will always protect himself if a fan approaches him on the pitch adding that he hoped supporters had got it off their chest after yesterday's game.
Noble told a reporter: "I'm a West Ham fan and I've always protected the club, If someone approaches me, I'll protect myself. It's been like this for the past two seasons, since we moved to this stadium.
"Every time we lose we and the board get a lot of stick. It seemed today that the fans had had enough. They wanted to show their emotion. When fans come to the game with the hump, they know how to show their emotions.
"The atmosphere was horrible. We know a lot of it isn't aimed at the players, but we have to be man enough to play in that atmosphere."
"I'm really hoping the fans have got it off their chest. They are a true, honest and passionate bunch of people. I'm hoping that they have had their outburst, because all that matters is staying in the Premier League, If they can help us get over the line, maybe we can sort it out in the summer."