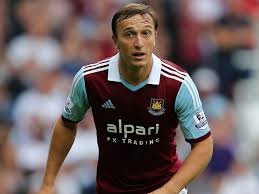 Mark Noble is helping the new Hammers bedding-in process by giving the newbie foreign players lessons in Cockney English!
The captain – in irrepressible battling mood on Saturday evening – reckons he is helping team spirit big time with some special tuition.
The midfielder clearly sees it as part of his job to help out on that front and it seems to be working – slowly.
He said: "I have a laugh with them. A lot of them don't speak English and I'm always on at them to speak it. It helps on the pitch and in training.
"But you can see they work their socks off for the team and bring quality. They are slowly picking up English. The better English they speak the better players they will become.
"I speak a lot of slang, a bit of Cockney and I have to slow myself down because they find it hard to understand me but they are good lads and have settled in well."